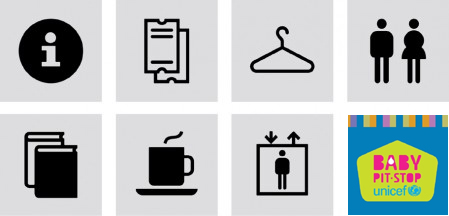 Services

Desk info
Ticket office
Cloakroom
Toilette
Bookshop
Museum Cafè
Lift
Baby Pit-stop (Dedicated room, for breastfeeding, change and relax)
---

Notes on architectural barriers

Fitted-up toilets on first floor.
Small lift (56 x 100 cm) at the street number 1221B, by the main entrance of the Museum.
Visitors must call +39 041 2405211 in advance, to arrange the best means of access and to obtain the most suitable forms of assistance
Tour for the visually impaired on the first floor, in a limited area.
---
Special neeeds
All the tours and workshop activities are already designed to be fully inclusive; however, they can also be remodelled to meet specific needs. It is possible to personally adapt materials for children with learning difficulties.
Find out more >
---

Venice Accessible
Correr Museum and the St. Mark's area are inclused in the accessible routes reported by the City of Venice.
Further informations available at "VENICE ACCESSIBLE" official page>>