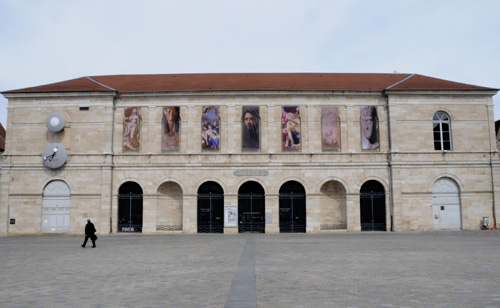 The Birth of a Museum
In 1694, an abbot named Jean-Baptiste Boisot bequeathed his library and art collections to the Benedictine monastery of Saint-Vincent in Besançon on two conditions: it was to be exhibited in its entirety in a room open to the public twice a week, and its continual enrichment was to be assured through the allocation of a budget specific to this purpose. In 1843, a floor of the new grain market was designated for museum use and, on the occasion of the World's Fair of 1860, galleries- built in wood supported by cast iron pillars – were constructed in the building's inner courtyard. The museum was laid out on two floors devoted to works of art and archeology.
Following the major bequest by the Bessons in 1963, the building was entirely renovated by the architect Luis Miquel, an associate of Le Corbusier. From 1967 to 1970, ramps and landings in rough concrete were built in the inner courtyard to replace the nineteenth-century galleries. The boldness and originality of this choice, at a time in which projects of this entity were rare in France, made the Besançon museum a milestone in the history of museum design.
The museum is currently being renovated to meet the needs of today's museum sciences and is scheduled to reopen to the public in 2018.
Major Donations
Over the course of the nineteenth century, the museum's collections were expanded considerably through various acquisitions but mostly through donations and bequests.
1843: gift from the municipal library of paintings and drawings including works by François Boucher, Jean-Honoré Fragonard, and Hubert Robert.
1843: bequest by François-Xavier Donzelot of a group of large, seventeenth-century Neapolitan paintings.
1889: bequest by Jean-Louis Eugène Willemot of approximantly 1,000 ceramic works.
1894: bequest by Jean Gigoux of approximately 500 paintings and 3,000 drawings.
1963: bequest by Georges and Adèle Besson of works by twentieth-century artists, such as Bonnard, Dufy, Dunoyer de Segonzac, Lhote, Marquet, Matisse, Rodin, Signac, Vallotton, and Picasso.
Since 1994: donations by Norbert Ducrot-Granderye of paintings, drawings, prints, tapestries, and sculptures by Charles Lapicque..
Native to Besançon, the artist and collector Jean Gigoux put together remarkable collections that he wished to leave to his hometown, where he hoped to help create a "regional Louvre" that might acquaint his fellow townspeople with the history of Western art from the Renaissance on. The Drunkenness of Noah is one of this these works.
The Drunkenness of Noah at the Musée de Besançon 
The Drunkenness of Noah is painted in oil on canvas, a support that replaced wood in Venice in the sixteenth century and that Bellini himself started using at the end of his life. The work was given a new backing, probably in the nineteenth century, and has been retouched in technical and stylistic ways to mask extensive worn areas. Noah's foot, for example, has been amply reworked—it only has four toes!—seeing as this corner area is quite consumed.
The X-ray shows the distribution of light that defines the forms in an almost tactile way, similar to the late works of Giorgione and Titian, as well as the almost complete absence of a preparatory drawing. These technical elements demonstrate Bellini's role in the "modern manner" of Venetian painting after 1500.
As often happens, the studies on and restorations of this work were most often planned around the exhibitions to which it was loaned. The presentation of this work at Museo Correr follows suit in that it has made it possible to entrust the work to the Laboratori della Misericordia for a preliminary study. Upon its return to Besançon, the work will benefit from an essential restoration in anticipation of its exhibition in newly renovated museum galleries in 2018.