BULLETIN OF VENETIAN CIVIC MUSEUMS, III series – 7.2012
Waxworks in Venetian Civic Museums collections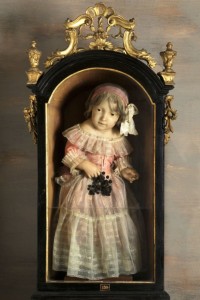 It is out the new bulletin of the Foundation Civic Museums of Venice, the catalogue of contributions and scientific studies, focused on waxworks in Venetian Civic Museums collections.
This is the 7th issue of the third series, curated by Camillo Tonini and Cristina Crisafulli, in collaboration with the Center for Cataloguing and Multimedia Production and the Photographic Archive of the Foundation Civic Museums of Venice.
The bulletin presents three sections of the book, published by Skira/Civic Museums of Venice (136 pages, 80 illustrations, 22 in color): Collections (Collezioni) – monographic section dedicated to the collection waxworks in Venetian Civic Museums collections, from which the volume's title – Studies and Contributions (Studi e Contributi) and Activities (Attività) section.
_
INDEX BULLETIN 2012
COLLECTIONS (COLLEZIONI)
Andrea Daninos, La scultura in cera a Venezia. Note in margine a una mostra
Diana Cristante, Camillo Tonini, La cere nelle collezioni dei Musei Civici Veneziani
Isabella Collavizza, Diana Cristante, Marco Favetta, Marco Tosa, Rosssana Vitale d'Alberton, Catalogo
STUDIES AND CONTRIBUTIONS (STUDI E CONTRIBUTI)
Ettore Merkel, L'ancòna di Gentile da Fabriano per la dimora veneziana di Francesco Amadi a Santa Marina
Giorgio Fossaluzza, Ancora una primizia di Vittore Carpaccio nella raccolta Correr: la Pietà n. 1088*
Andrea Bellieni, Una Madonna col Bambino del giovane Carpaccio dai deposti del Museo Correr
Massimo Favilla, Ruggero Rugolo, Dalla Raccolta Gaspari del Museo Correr: le ville Contarini del Principe a Este, Grimani a Pontepossero e Giovanelli a Noventa Padovana
Paolo Delorenzi, Il professore e l'ereditiera. Gian Rinaldo Carli e Paolina Rubbi in due ritratti di Bartolomeo Nazari
Juergen Schulz, Albrizzi's Forestiere illuminato: Corrections and Additions to the 2008 Catalogue of Editions, Imitations and Translations
Giuliano Averna, Una traduzione inglese per Pietro Buratti: "songs from the venetian of Pietro Buratti"
ACTIVITIES (ATTIVITA')
Giorgio Fossaluzza, La Grande vetrata di San Zanipolo: acquisizioni e problemi aperti a trent'anni dalla mostra al Museo Correr
Francesco Bernardi, Giacomo Masato, La catalogazione dei fondi manoscritti della Biblioteca del Museo di Storia Naturale di Venezia
Fabio Santin, Dodici modelli di barche veneziane nelle collezioni del Museo Correr
Roberta Meneghetti, La catalogazione del fondo dei disegni di architettura del Museo Correr
Anna Bogo, "Morte ti spegne e Vita si rinnova": la passione di un paladino di ogni arte respira ancora nella sua eredità. Domenico Varagnolo e il suo lascito alla Biblioteca di Casa Goldoni
Matteo Piccolo, Il carteggio de Lisi-Usigli a Ca' Pesaro. Gli artisti
Monica da Cortà Fumei, Claudia Calabresi, Attività di conservazione e di valorizzazione 2011.